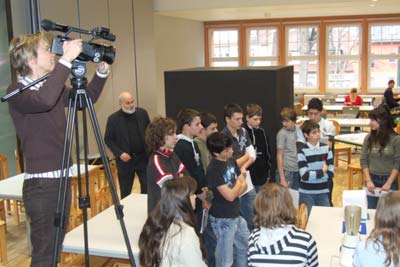 JenaTV came to see what was going on.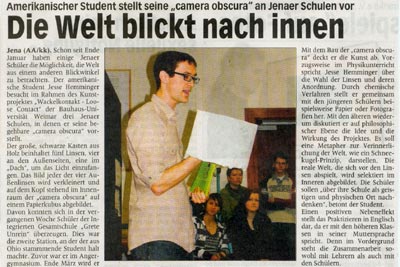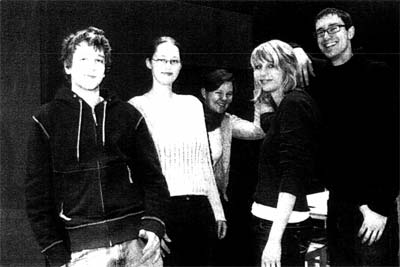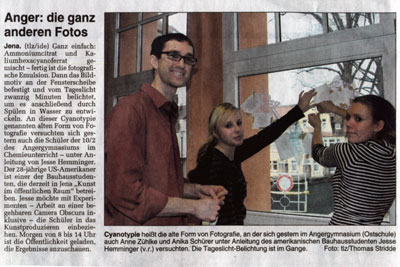 Snow Globe / Schneekugel
2007
Press Release
My name is Jesse Hemminger. I am an artist and a student at the Bauhaus Universität Weimar. I am taking part in a group exhibition of Public Art in Jena. The exhibition is sponsored by JenOptik and the Jena Kunstverein, and will take place in January and February 2007.
My project is about internalization. It will be installed in three schools in Jena: a Gymnasium, a Gesamtschule, and a Regelschule. At a time when many changes are taking place in the educational system, I am challenging students to reflect on how their educational institution influences their identity.
During my weeks at the schools, I will be collaborating with the teachers to do many activities with the children including: paper making, mixing the chemicals to make the solutions for cyanotype photography (an old photo process), making photographs with the hand made paper and the cyanotype process, doing optics experiments with the physics class, and discussing the meaning of my work with the upper level english classes. By collaborating with the students in this way, I am making them active producers of culture instead of merely passive consumers.
Schedule
29.1 – 2.2
Angergymnasium
(Friday 2.2, 8:00-14:00, open to the general public)
12.2 – 16.2
Grete Unrein
20.2 – 6.3
Lobdeburgschule
(Saturday 3.3, 9:00-12:00, open to the general public)
There will also be an accompanying gallery exhibition in the JenOptik gallery and the Jena Kunstverein gallery. An opening reception will be held on Thursday February 1, 2007 at 18:00. The gallery exhibition runs from 1.2.07 until 15.2.07.
Artist Bio
Jesse Hemminger
I was born in 1978 on a small organic farm in northern Ohio, USA. One of my goals as an artist is to make people laugh and think. My work explores playfulness, human connections, and the pervasiveness of mass media. I work primarily with 3 dimensional forms that usually involve interaction or installation. I received my B.F.A. from The Ohio State University in Columbus, Ohio, USA, in 2001 with a focus in Art and Technology and have since been making and exhibiting my art, as well as teaching, and doing freelance work in new media. I am currently pursuing my M.F.A. from the Bauhaus-Universität Weimar. Examples of my current work and contact information can be found at: www.jessehemminger.com